Where 49ers rookie Solomon Thomas wins on the defensive line
The 49ers in 2017 added a brand-new engine for the middle of their defensive line in third overall pick out of Stanford, Solomon Thomas. Prior to the start of what may be a very solid rookie campaign, I wanted to take a closer look at four aspects of Thomas' game; how he does against double teams, his prowess against the run, and gauge his win rate as both an inside and outside pass rusher.
It shouldn't be surprising that he receives overall good marks here, given his high draft status and lofty NFL comparisons.
Despite seeing what seemed like constant double teams in the NCAA, Thomas exhibited an ability to be dominant to a level where he would simply take over games (UCLA and Colorado to name a couple). He would often become the focus of opposing offenses. Now in the NFL, the ceiling for him is All-Pro. With his talent, technique-centric game, overall intelligence, proactive work ethic, mindset, and surrounding cast in the front seven, Thomas can soon become a household name around the league.
And if you're looking for visual evidence, look no further . . .
Against double teams
After watching Thomas in college, it was hard to ignore how often he drew double teams. And if not right off the bat, by the second or third quarter of games.
That is a type of conditioning that may go overlooked when evaluating his ability to contribute in the short-term. Now playing with DeForest Buckner and Arik Armstead, Thomas may have a chance to be unleashed, simply due to the fact that he can't command that type of attention from 5- or even 6-man protections anymore. Someone's bound to get loose.
But even when Thomas did see two linemen at a time, he adapted.
He either remained disruptive or flat out made plays. Motor, frankly, is what set him apart. We didn't refer to him as an engine for nothing. He does not stop. And in those moments, he's strong, violent, quick and calculated, making him difficult to contain, even when it appears he's been neutralized on a given play.
Here are two clips of Thomas continuing to affect plays despite double teams: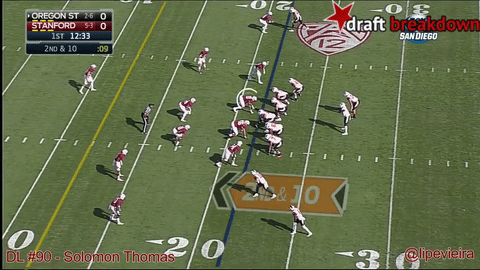 Here Thomas takes on the right side of the line of Oregon State, as he is engaged by both the guard and the tackle. After burying his head in between the two, selling it as if he's going to try to split the double team, Thomas quickly spins out of it and into the one free lane to the quarterback he shouldn't have even been able to see.
This second play is pretty terrific, and it best demonstrates his power and motor, as opposed to his nimbleness in the previous play.
In a 2016 game against Colorado, Thomas finds himself sandwiched by the RT-RG double-team after being blindsided by the tackle. He looks so far eliminated from the play that he disappears from sight altogether. But the end result? A sack.
Against the run
This may very well be Thomas' top area of expertise. He is a destroyer of run games. Whether he's breaking free and making tackles or redirecting runs with the way he blows up blocking schemes, Thomas is a major asset vs. the ground game. It's illustrated by his 14 tackles for a loss and team-high 61 tackles in 2016. He also received a 92.5 grade—near-perfect and categorically "elite"—against the run by Pro Football Focus.
Here's how he gets after it:
Both his physical ability and intelligence are on full display here. Thomas is lined up outside, but he has the smarts and athleticism to read Colorado's blocking scheme, identify where the play is going, and loop inside quick enough to make the stop.
The athleticism doesn't end there, either. He can sprint outside, as well, to defend runs to the perimeter:
Squared up on the option here against Rice, Thomas manages not to lose his footing; he shows patience reading the pitch; and he reacts quickly and again has ample speed to run the tailback down on a footrace to the edge.
How about Thomas stacking and shedding?
This is a textbook play, and one he made dozens of times. He is in total control here, one-arming the lineman before shedding to make the tackle on the running back. This is the type of play that alerted draft media and teams to his alpha nature as a defensive lineman.
Here are four more sightings of Thomas as an unstoppable force against the run:
Inside pass rush
Thomas had 8.5 sacks in his final college season, which included takedowns of Sam Darnold, Josh Rosen, Luke Falk, DeShone Kizer, and even Mitch Trubisky. But in arguably his best game of the year against UCLA, Thomas made life particularly hard on Rosen.
He forced Rosen out of the pocket on several plays, and he did it primarily with interior pass rush:
A closer look at the same QB pressure from behind the UCLA offensive line:
Here is another example of Thomas winning inside and turning the heat up on Rosen immediately after the play-fake:
Rosen at this rate couldn't avoid a collision with Thomas forever:
By the third quarter, with no play-action rollout, Rosen gets flattened by Thomas.
Inside pass rush was one of the most recognizable trends in Thomas' on-field success at Stanford. It's what he consistently did well, and it was because of his upper body techniques. This is the best execution of his pattetened swim move that he lived off of when attacking the A-gap:
Outside pass rush
While mentors and training partners Von Miller and DeMarcus Ware grew their personas as outside pass rushers, it doesn't mean Thomas is going to make his living on the edge. With his wide frame, bulk, quick hands and agility, he is more built like Mike Daniels of the Packers or Aaron Donald of the Rams, both interior linemen.
The best example of Thomas bending and using the speed he has to challenge the offensive tackle around the edge is here against Colorado:
He swats and misses—but drops that shoulder, uses the tackle to slingshot around and leans on his leg drive to power his way to the pocket. But this is a rarer occurrence for Thomas and it may not translate when he hits the NFL field. He has better lateral quickness and inside moves than he does an elite first step, speed and an ability to go low.
Thomas is only in an advantageous position out wide when he intends to cut back inside. While his bull rush is very good—and it should only going to get better as he gets stronger and acclimated to pro-level tackles—he's going to run into big offensive tackles more often, ones that can lock him up. And it's typically better to counter their size with an opposite-end of-the-spectrum trait like speed. So, in that sense, this is not a bad thing. At this point, it's just the nature of his game—and it's about matchups.
Here are a couple examples of Thomas as a power player out on the edge:
He's not ineffective, he's just less impactful playing the 6, 7 and wide-9 techniques. His hot zone is between the inside shoulders of both offensive tackles. That's when he's generating pressure and making tackles in the backfield. Instead, what you see above are slow, non-panic-inducing pressures.
They are unlike the quick strikes we saw with him when shooting interior gaps.
If Thomas is going to line up outside, it should be with the intent on absorbing protection and setting the edge. With his broad base and strength, that's what he can do well – but it needs to be mostly in run situations or the 49ers are more vulnerable than they otherwise would be. It seems that in obvious passing situations, Thomas should be attacking inside.
Overall he's more problematic for guards, centers and blocking backs than he is offensive tackles that can match his strength.
Media courtesy Sports Illustrated, TX High School Football, DraftBreakdown, Getty, PFF
#solomonthomas #49ers #sanfrancisco49ers #nfldraft #2017nfldraft #nfl