The case for Lamar Jackson and the quarterback-less 49ers
If you believe in Kyle Shanahan as an offensive engineer, and his ability to take on a player, and no matter their position or skill set, help them break through their ceiling and perform at the optimum level, then it allows you as a front office to start thinking about acquiring high-ceiling players instead of high-floor players.
And that's a luxury, because a lot of teams, due of their coaching situations, tend to take the high-floor players or "the consensus pick" to veer on the side of caution. They don't have the minds in the building to do what the next team could in terms of development or scheme, so they grab system fits and more orthodox players.
With Shanahan, the 49ers could go the unorthodox route, take the rare hybrid talent with the most upside and hope to catch lightning in a bottle.
And as it concerns general manager John Lynch, who looks like he'll have a top two or three pick in the 2018 NFL Draft, the player with the most upside, hands down, is Louisville quarterback Lamar Jackson. That's because of his position and that's because of his raw talent and diverse scoring ability.
When points are the name of the game, and college concepts are integral to the most potent offenses in the league today, you have to push Jackson up your board.
And it couldn't be more convenient timing, seeing as how the 49ers find themselves desperately needing a quarterback. Not only do they need a quarterback, but they need an offensive identity. And two of the quickest ways to accomplish that are by adding a high-profile passer or a nightmare-inducing offensive weapon.
San Francisco can check both boxes in one move with Jackson.
In his scintillating Heisman Trophy winning campaign in 2016, he scored 51 total touchdowns and only turned the ball over nine times. That's a ridiculous ratio. Not to mention, thirty of those scores came through the air, the same amount North Carolina quarterback Mitchell Trubisky put up before going third overall to the Bears.
And that's what's overlooked, Jackson as a passer.
His running ability is so often gawked at, many think that's all he can do – or that he's dependent on his legs for success. They perceive him as some sort of flavor of the month or college gimmick. And most commonly, because he's a dual-threat, fans look at the history of the type and place unfavorable judgement.
When in reality, Jackson is out there every Saturday making some of the best throws in the country and looking more and more like the most dangerous quarterback any NFL head coach could hope to mold.
Jackson as a passing quarterback
Watching Jackson, what's on display is a lanky upright passer that throws with great touch. He has one of the smoothest releases in college, flashing all different velocities. Jackson can whip it downfield or zip it into a tight window underneath with just a flick of his wrist, and he's never bashful about taking the deep shot when it's there.
He's also not limited by the route tree; Jackson truly has the arm talent to make all the throws.
He's got one of the best deep balls in college today. And in the intermediate and underneath parts of the field he's shown outstanding anticipation and placement, picking apart zone coverages and hitting his receivers in stride. On passing traits alone, no part of the field is safe from him.
Overall, Jackson's arm just looks special, and if he continues to develop as a student of the game, his passing game alone could reach incendiary levels.
To showcase this, I wanted to look at specific throws Jackson made—NFL-level throws—and present why No. 1 overall consideration next April should not be out of the question even from a pure passing standpoint.
A sample like that consists of throws made under pressure, ones where he was on the run and/or throwing against his body, any time he went deep or showed next-level zip on the ball, throws made from the pocket, ones into tight windows, times he threw accurately coming off his first read, and attempts where he threw his receivers open and showed good anticipation vs. different coverages.
The footage
Part of NFL quarterbacking is consistently making short to intermediate throws from the pocket in tumultuous Inception-like surroundings. Making these dink-and-dunk of throws consistently and moving the chains is a shared trait among the top-tier passers in the league.
This is a good example of Jackson demonstrating he can make those throws with the heat turned up.
Jackson stands tall with the pocket closing in on him and delivers a perfectly thrown strike over the middle in between two defenders converging on his receiver. The ball placement, in what was a very tight window, could not have been better. It was eye level in front of the receiver, at the very last spot he could put it before the receiver had to turn up field and away from the incoming linebacker.
Here is another excellent example of Jackson making a routine intermediate throw under serious duress without straying far from the pocket.
The difference between this play and the first one is this throw is off play-action, where Jackson has even less time to set, survey and throw. Three defenders quickly surround him and he steps up and floats a ball over the top of a defender for a touchdown.
Another throw Jackson excels on are the ones to running backs and receivers in the flats.
He routinely puts the ball out in front of his target where the receiver can catch the ball without slowing up. Every Saturday you'll see Jackson make this throw with eerie consistency, leading his man into space.
Creativity is a big part of Jackson's game, too. He makes magic happen when he's pressured and chased outside of the pocket.
Here Jackson can't step into a throw over the middle and leaves the pocket after making contact with his own lineman. But he keeps the play alive by rolling out to his right, keeping his eyes downfield and delivering a high ball over a defender where only his receiver could catch it.
Again, he throws with great accuracy on the move. And the quickness of which this play happens and Jackson's decision-making with the ball shows awareness and football IQ, knowing where his receiver would be after not being able to get to that read previously.
This is a trait that adds a layer of complexity to his game for his opponents. Not only is this nearly impossible to defend on a down-by-down basis, but it turns games into wars of attrition. Defenses aren't conditioned to run and be in the mindset to cover for this long.
Here is another example against Clemson.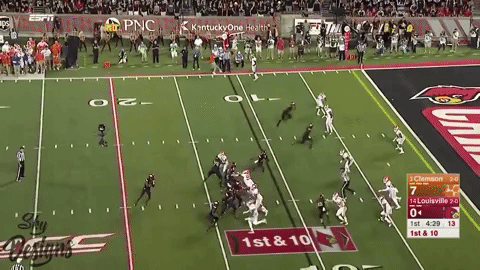 Here two Tigers defenders blow right through the line and flush Jackson out of the pocket.
What would be a sack for many passers, Jackson turns into a scoring play with his ability to react and extend the play outside the pocket, again keeping his eyes downfield looking for a receiver. The ball placement is also impressive. He throws high and away from the defender, angling the throw inside despite his momentum carrying him to the sideline.
Another view capturing the play:
Here are another couple of examples of Jackson making tough throws on the move under pressure.
So, with his ability to buy time and wear out defenses, Jackson has shown he can successfully improvise and create off broken plays. And that's a confidence killer for a defense when the blitz is getting through but not working.
Related, he can throw accurately across his body on the move.
This illustrates a real feel for his arm, and how to be accurate from any throwing platform, which is necessary in the NFL. Like Russell Wilson, Marcus Mariota and even Colin Kaepernick, Jackson's lower body and upper body don't quite connect. A misalignment between them doesn't always equate to off-target throws like it does with most other stationary passers.
Here's what it looks like:
He doesn't stop to set his feet or even slow down. This is all arm and upper body feel, and it's right on the money.
And again from a more difficult position:
His ability to evade the rush and work both sides of the field with his arm like this is hugely valuable. For most quarterbacks, this is a negative play.
Jackson is also able to use that athleticism to evade sacks, reset and make throws from the pocket.
This throw in 2017 against UNC is one of the best examples of his elusiveness and passing skills working together on one play.
And when he's actually provided time in the pocket, Jackson can deliver the ball as good as anyone.
Jackson is truly making some of the best-looking throws in the nation. This one in Week 8 of 2017 against Florida State was a big-time throw, and it was perfect.
With his receiver blanketed. this flag route was thrown to the inch mark of where it needed to be.
How about visibly coming off his first read and delivering from the pocket?
Jackson's able to do it all.
When you're looking for the types of throws he'll have to make at the next level, they are not hard to come by, and Jackson makes a lot of them look effortless.
The perfect marriage?
No sell needs to be made on the running aspect, so we won't go over it in detail – this was simply to showcase Jackson's capabilities as a passer, which are indeed advanced. He more than qualifies as a first-round prospect, and should be in serious consideration to be the first quarterback to come off the board in 2018.
And that's where the 49ers come in.
They need a QB and football fans want to see Jackson land with a competent offensive coach, instead of a team that doesn't fully understand him or what he's capable of, merely so this rare talent isn't squandered. For the betterment of the sport, Jackson ideally lands with a team that can develop his already dynamic passing skills, while utilizing quarterback mobility we haven't seen since Michael Vick.
Shanahan, now in his first head coaching job, is lauded as one of the best offensive minds in the game. Not only is he a candidate to take this incredibly gifted passer and elevate him as he did with Matt Ryan, but the coach could have a field day scripting runs for him, as well.
(Whispers: The 49ers by the way are running read-option under Shanahan in 2017).
This wouldn't be as much of a stretch fit as it's been made out to be.
A first-round acquisition of Jackson would more than kickstart the 49ers' long-stagnant offense. The team would finally have a franchise quarterback, and MVP-type talent in the building if he hits his ceiling as a pro, which Jackson could very well do under Shanahan's wing.
And not only because of the coach, but also because we're witnessing a shift in the game that is conducive to Jackson's skill set.
The wily NCAA quarterbacks of late are throwing the league out of balance, and making plays the same way they did in college. Young athletic gunslinger-types are succeeding all around the NFL today, from Carson Wentz to Dak Prescott to Deshaun Watson. Even Jared Goff scored on a read-option carry against the Cardinals defense in Week 7.
This league is ready for Jackson – and if Shanahan gets his hands on him, the 49ers could wind up with one of the most dangerous offensive centerpieces in football.
Media courtesy Getty Images, USA Today Sports Images
#lamarjackson #nfldraft #nfl #2018nfldraft #sanfrancisco49ers #49ers #kyleshanahan