Profiling 49ers 2018 draft options: Siran Neal, CB, Jacksonville State
Editor's note: Eric Crocker is a former AFL/NFL cornerback who now specializes in the defensive back position. This is part of a series in which he'll be providing a unique perspective on DB options for the 49ers.
Siran Neal - RS SR, Jacksonville State
Ht/wt: 6-foot-0 206lbs
2017: 39 tackles, 1 interception, 11 PBU, FF
Siran Neal is a little known defensive back out of FCS Jacksonville State, who got on the NFL radar this week with an impressive showing during the Senior Bowl practices. Once a receiver, the coaching staff at JSU believed with Neal's blend of size, speed, and athleticism, he'd be a plug and play guy as a defensive back.
At 6-foot, 205 pounds, Neal has the ideal size NFL teams are coveting, and the position versatility to go with, as JSU used Neal all over the field. On film he can be seen making plays at safety, slot and cornerback.
In both the box and back deep at free safety, he can be seen filling in gaps and running through running backs, dismantling offensive players with big hits. He flies around batting balls and making interceptions.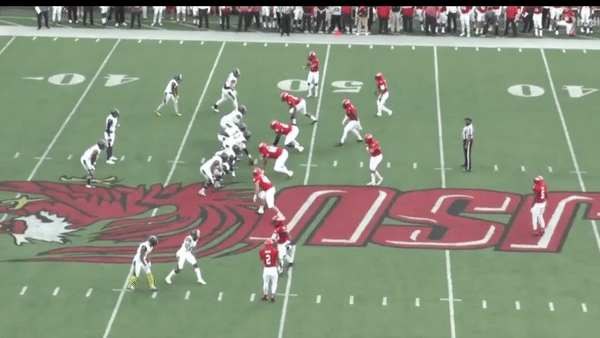 The slot is where he did most of his work, shadowing slot receivers and filling run lanes if needed.
At times he would line up on the outside and showed off elite press cover skills.
When watching press cornerbacks there are a few traits I look for. Everyone would like a cornerback to stonewall a receiver at the line of scrimmage but realistically that is very difficult and oftentimes gets CBs in trouble.
Cornerbacks who get too handsy at the line often stop their feet causing them to get beat right off the line of scrimmage. Neal shows the ability to be patient at times, but like we saw at the Senior Bowl practice, he can also stonewall receivers. Going up against Oklahoma State's James Washington he flashed patience and strength; two things a cornerback will need to play in the 49ers' scheme.
Typically with press cornerbacks they struggle in off coverage. Neal was able to flash off coverage skills in one on ones and team drills. Here, he can be seen playing off coverage against Tre'Quan Smith of Central Florida, and using what I call the "leverage step". On an in-breaking route, you use the leverage step to keep your same inside relationship with a receiver in route to prevent him from crossing face.
Fit with 49ers:
With ideal size and speed, Siran Neal has the physical attributes the 49ers are looking to build their secondary around. In 2017, the 49ers were stuck trying to replace a struggling Dontae Johnson with cast-offs like Tyvis Powell and Greg Maybin. Those experiments did not go well. With a strong Senior Bowl and Combine, Neal can be a legit mid-round selection and eventually a potential starter opposite Ahkello Witherspoon.
Media courtesy DoThan Eagle/Butch Dill, Niners Wire's Jerod Brown
2017 stats courtesy Jacksonville State Gamecocks
#ericcrocker #siranneal #2018nfldraft #nfldraft #49ers #sanfrancisco49ers #nfl #seniorbowl #2018seniorbowl #filmbreakdown