Profiling 49ers 2018 draft options: Dante Pettis, WR, Washington
Editor's note: This is part of an ongoing series in which Ryan Berry will break down potential prospects the rebuilding 49ers can consider in the 2018 draft.
Dante Pettis - SR, Washington
Ht/wt: 6-foot-1, 195 lbs.
2017: 63 receptions, 761 receiving yards, 7 TDs
Dante Pettis was very productive in his four years at Washington with a total of 24 receiving touchdowns and an NCAA-record nine punt return TD's (four in 2017).
Pettis played in 52 career games highlighted by his 2016 53-822-15 campaign. Pettis' showed flashes of first-round talent (see Washington State 2016), but failed to grow in his senior year due to subpar QB play.
Pettis is the best return specialist since Devin Hester, which should push him up at least half a round on teams' boards. He sets up his blocks nicely and gets upfield without much playing around. On the offensive side, Pettis is versatile — he lined up outside, in the slot, tight, and at RB. He is smooth in his routes, uses good footwork to create separation (especially on deep outs), works back to the QB, and is great at tracking the ball once past a defender. Learned from his dad, five-time Gold Glove winning center fielder, Gary. He's fast, but doesn't have elite speed and isn't very elusive. He could use more time in the weight room as his lack of strength hinders him off the line at times and in jump-ball scenarios. He is training in Southern California, catching passes from Josh Allen, Sam Darnold, and Kyle Allen daily.
49ers usage: Kyle Shanahan has taken a liking to crisp route runners, much like Pettis. The receiver's versatility to line up all over the field mixed with his big-play ability, precision route running and familiarity in a spread RPO/play-action system should translate to what the 49ers need. Pettis could eventually be an heir apparent to Pierre Garçon.
Games watched: Oregon 2017, Utah 2017, Stanford 2017, Washington State 2016
Positives:
Tracks the deep ball - Specifically when he is past the defender, Pettis uses his body and tracks the ball like a center fielder catching a fly ball in stride.
Route running - Uses precision route running to set up defenders and create separation.
Elite punt returner - Doesn't play games, gets north and south.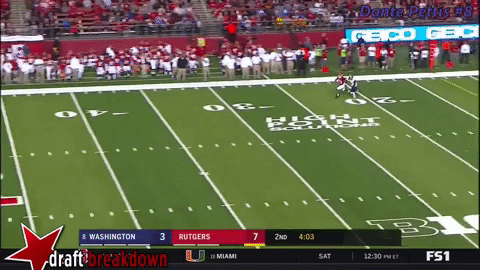 Negatives:
Strength - He gets pushed around at times or is unable to make a play on the ball/finish a route.
Open field moves - Doesn't make people miss routinely.
Projected Round: 2nd-3rd round. Pettis is a Pro Bowl-caliber return man, which may push him up into the middle of Round 2. He is consistent, runs good routes, knowledgeable and works back to the QB and excels with separation in deep outs and comebacks. He lines up outside and in the slot and regularly displays big-play ability. He is a willing and above-average blocker, but needs to get stronger off the line and on contested balls.
Pro Comp: Jordy Nelson, WR, Packers
Media courtesy Brian Murphy/Icon Sportswire, Draft Breakdown
#ryanberry #dantepettis #2018nfldraft #nfldraft #49ers #sanfrancisco49ers #filmbreakdown