Should 49ers draft another Pac-12 D-lineman? Meet Hercules Mata'afa
After a decade in a 3-4 base defense, run and keyed by stalwarts like Patrick Willis, Justin Smith, Manny Lawson and Aldon Smith, the 49ers finally switched it up in 2017, installing a scheme their better young talents can thrive in. The transition to a 4-3 base under new coordinator Robert Saleh has been a success for the most part.
And while it is one of the young corps out there with a lot of potential, it's still incomplete, and could use another star player at a cornerstone type position.
Watching and learning this new defense, thinking over its strengths and weaknesses, and pinpointing what it relies on to be successful, I wanted to identify a draft-eligible player that would most benefit Saleh's defense during its formative years.
Essentially, what do they want this defense to grow into and who is the missing piece to get them there?
What we learned early is that two positions are particularly important to the performance of the 49ers' new scheme: the free safety and the Leo (backside edge rusher). The 49ers found their safety with the emergence of seventh-round rookie Adrian Colbert out of the University of Miami. The defense also has veteran Jimmie Ward returning, so the position is secure for at least another year.
That makes Leo the priority.
Going a step beyond that, I wanted to narrow it down to a player matching the prototype Saleh looks for.
"People who have been attached to the system, you're looking at Chris Clemons, Cliff Avril, Yannick Ngakoue, Dante Fowler, Vic Beasley . . . People outside the system, you look at Von Miller, Khalil Mack. Back in its heyday, Charles Haley would've been a guy like that.
"He's your premier pass rusher. We do everything we can to get him to the open side. His hair's on fire. Just get after the quarterback."
Aside from Saleh's mention of Haley, the average size of Leos who entered the league between 2003 and 2016 comes in just under 6-foot-3, and 252 pounds. That's the model. But what about the attitude and traits?
As far as those characteristics go, time and time again Saleh has mentioned "violence" in his players.
"I can't wait to see the violence at which we play," the eager 49ers defensive coordinator said back in August prior to the preseason opener. Then in his Week 17 presser, when setting goals for next season, Saleh talked speed and ball-hawking, but again emphasized "violence," mentioning the word four times in a single response.
So, considering all that, the 49ers need a fast, violent edge rusher between 6-foot-2 and 6-foot-3, and around 250 pounds. Ideally this player will have had college production and be technically sound. That's what Saleh will be drawn to when entering his bid for who the 49ers should select in the draft to fill the Leo spot.
Knowing all this, I keep coming back to one player: Washington State's Hercules Mata'afa.
Mata'afa embodies everything Saleh desires in his defense and projects to play a position they're looking to fill. As a constant presence in the backfield, the Wazzu product plays violent, fast and with a chip on his shoulder. His hyperactive play speed and pop at the point of contact really captures his game. He also matches the size requirements for a Leo, listing at 6-foot-2, 252 pounds, according to the Wazzu website.
Over his three-year career with the Cougars (33 games), Mata'afa made 119 tackles, with 44.5 coming behind the line of scrimmage, and 20 sacks. He was also a three-time All-Pac 12 selection. So, the production and recognition is there, and his stats have been on the uptick. Mata'afa had 10.5 sacks in 10 games this year, and a whopping 22.5 tackles for a loss, both leading the Pac-12.
As a junior in 2017, he was named a consensus All-American as a defensive tackle, along with other defensive first-round prospects this year like Maurice Hurst, Bradley Chubb, Roquan Smith and Minkah Fitzpatrick. Mata'afa was also All-Pac-12 first-team as both a defensive end and defensive tackle, he was named the Pac-12 Defensive Player of the Year and became the first-ever defensive player to win the Polynesian College Football Player of the Year award.
The odd thing about him is that he mostly played interior defensive line but he has the body of a linebacker. He had only a few reps on the edge; for the most part he was shading guards in the NCAA. So, in transitioning to more of a full-time role outside in the pros, there's a very real projection aspect to consider.
Nevertheless, Mata'afa's traits make him look like a top-20 player in the draft and comparable to successful NFL pass rushers.
Explosive freak show – Owning one of the best get-offs at the college level, Mata'afa wreaked havoc at Wazzu.
His timing off the ball, first step, short-range speed, low playing style and motor define him. He's always the first off the line, blowing up handoffs at the mesh point and making sacks before the quarterback can complete a play-fake. It's as if Mata'afa plays in another stitch in time, always a fraction of a second ahead of his competition.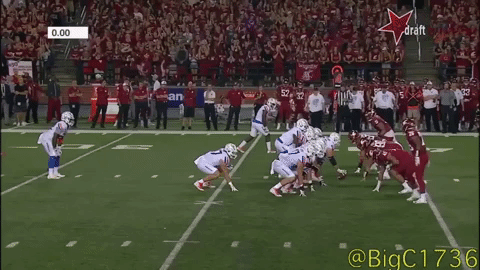 Hard to block – Polish is always preferred when drafting a player, and Mata'afa's technique stands out. It's why he was consistent and put up the numbers he did.
His hands are quick and powerful, and it makes him effective swatting away attempts by offensive linemen. He's also great at twisting his body and using his frame to shield offensive linemen from engaging him, instead just shooting the gaps. So in addition to the hands, there's comfortability in his own body, and a good feel for his center of gravity. Mata'afa plays low to the ground, and with his speed, suddenness, and tunnel-vision approach, he shoots gaps before O-lineman have a chance to get hands on him. And once he arrives at his target, he's a very good finisher.
Violent style – His alpha traits — namely the explosive get-off, ripping and tackling — equate to a violent style. With the speed he plays at, he routinely arrives at the ball with a lot of force, and it's momentum-changing at times. And you don't want to be in his way when he's en route to the football. Maybe it stems from his Hawaiian roots and the island's rich history as a warrior culture, but Mata'afa plays with a nasty disposition and it shows in the way he finishes plays.
Fit with the 49ers: The 49ers had 30 sacks as a team in 2017, only five teams had less. With a lack of outside pass-rush productivity, Saleh said the long-term goal is to kick Solomon Thomas inside where he can play to his strengths. In order to do that and create the dynamic on the line the system requires, they must also invest in an athletic edge rusher with more potential than Cassius Marsh.
While he can move around and play any spot, Mata'afa plugs in primarily as the Leo on the weak-side edge. He would be in a position to get free rushes and favorable one on ones with Thomas and DeForest Buckner working inside, using that hell-raising speed and tone-setting style to become the 49ers' primary pass rusher.
Pro Comp: Brandon Graham, Eagles
Media courtesy Washington State Athletics, USA Today Sports Images
#nfl #49ers #sanfrancisco49ers #2018nfldraft #robertsaleh #filmbreakdown #herculesmataafa