No ordinary safety, Derwin James' rare ability makes him a fit for 49ers
Teams tend to go the BPA route (best player available) on draft day when there's an opportunistic situation to take a prospect that should not have fallen to them, or if there's been a recent regime change, and that staff doesn't agree with the past evaluations and is looking to bring in its own.
While I believe the 49ers are set up to take a cornerback, edge, linebacker or offensive lineman with their first-round pick in 2018, one player I haven't ruled out for them at No. 9 overall due to the likelihood of him being the BPA when San Francisco selects is safety Derwin James.
It's true, they don't need a box safety with Jaquiski Tartt.
But he's returning from IR, he's entering a contract year, he's a holdover from the old regime, he hasn't started a full season in three years in the league, and he has low career production around his handful of splash plays. James, the All-American DB out of Florida State, who has received credible comparisons to Jalen Ramsey and Kam Chancellor, would be an instant upgrade and come in with a much higher ceiling.
[CROCKER: Film Room: 49ers S Tartt scratching surface of bright future]
James is not only one of the few truly elite prospects in this draft—on the same tier as Saquon Barkley, Roquan Smith and Quenton Nelson—but also a better fit for the 49ers than most realize.
He is the perfect specimen for the underneath safety role in Robert Saleh's defense. He owns the same part of the field as Chancellor, and plays the game the same way. The 49ers also need building blocks for the secondary, they need run support, they need help getting after the quarterback and they need a playmaker on defense.
James checks all of those boxes, and he's a centerpiece type of player, a real leader on that side of the ball. "Alpha in the locker room. Comes up to handle film sessions on weekends. When he talks, players listen," NFL.com's Lance Zierlein said of James.
In addition to the intangibles, he made tackles for loss, picked off passes while showing off freaky athleticism, he generated a lot of pressures, laid hard hits on quarterbacks and broke up passes sometimes with mere blunt force. Here's a look at one of the hands-down best defensive players in the 2018 class, and how he can provide what the 49ers are missing on defense.
Linebacker/box safety
With Reuben Foster's present situation, the middle of the defense is at risk of being re-exposed this year and potentially beyond. This has many clamoring for a linebacker, and analysts thinking the 49ers might pick one, even as early as No. 9 with Roquan Smith or Tremaine Edmunds.
James plays all over the field, even in a given game. The area he focused on defending, as well as his responsibilities, changed game by game depending on who Florida State's opponent was. It was clear Jimbo Fisher viewed him as a legit defensive weapon and the team's main clamp when it came to containing the opponent's offense.
His omnipresence and play-stopping ability is linebacker-like, as he established himself as a middle-of-the-field enforcer at FSU.
First thing you'll notice here against Alabama is how close to the line James is. This wasn't uncommon. At 6-foot-2, 215 pounds, with his violent style, they were fully confident putting him in at linebacker.
James freelances in the following play, covering the tight end off the snap before quickly reacting to the scramble by Jalen Hurts. Showing off good defensive instincts, he peels of his man and takes the right angle to stop the play for a gain of two on 3rd-and-18.
The upside of opposing offenses getting used to James playing downhill from the linebacker spot is they put his athletic ability in the back of their mind. They don't expect the defender playing from the linebacker spot to be able to make plays from that position. James is almost like bait that way.
Here is an example that is almost Ed Reed like.
Against Cuse, James drops into coverage from the underneath safety/strong-side linebacker spot and makes an athletic interception near the sideline that the quarterback never saw coming.
James owns the middle of the field in coverage, too. He makes it a dangerous area for receivers to catch and quarterbacks to throw.
Pass rusher
The 49ers will look to land their edge in the draft, but let's face it, they're pretty much starting from ground zero in terms of pass rush. One potentially above-average defensive end will help, but there's no such thing as too much pass rush. If the 49ers were able to find their Leo in Round 2 or 3, and acquire James early in the first, they'd have two able attackers to turn the heat up. This would open up exotic packages, and improve the success rate of blitzing defensive backs, as Saleh loves to do.
James is a menace in the box, and spent a lot of time blitzing at Florida State. He is tall enough and long enough, and has the strong, muscular frame to challenge offensive lineman like a defensive end. At the same time, he's an incredibly fluid athlete as shown in the way he weaves through the O-line and around blocking backs and tight ends.
This is a rare package. He's the best safety near the line I think I've seen since Steelers great Troy Polamalu.
Here, he shows the quickness, strength and technique of a defensive end coming off the edge. The head bob and jab step faking the right tackle inside, and the handwork that follows on his loop around the offensive lineman, is textbook.
James displays absurd power here, tossing the right tackle for Florida with one arm before flushing the quarterback out of the pocket.
There's also something to be said about James' rare movement skills as a pass rusher.
Despite being a tall, powerful guy like you see above, he can also juke, cut and bend around offensive linemen, tight ends and blocking backs. He is usually a mismatch for them because he is either taller and stronger or quicker and more agile than anyone trying to stop him.
Playmaker
The 49ers have a gang of big-bodied hitters throughout the defense. Speed, instincts and playmaking ability is an area they're lacking. It got a little better with the addition of Adrian Colbert, but even he didn't record an interception in 2017. Last year they ranked near the bottom in sacks (t-26th) and interceptions (t-24th). James instantly injects a playmaking element into this defense.
While James only totaled three interceptions and 5.5 career sacks of his own, there were several plays where his effort and presence created opportunities for his teammates. He would trigger a mistake by the offense – a bad throw, holding onto the ball too long or hearing footsteps – and the defense would be able to create off of that.
That is an invaluable trait, that while there's no created stat for, should not go unnoticed during the evaluation process. Remember, it's why Justin Smith was so valuable as a 3-4 defensive end. One man creating for others and relieving the pressure of the other 10 can change the whole complexion of the defense.
One example of this came against Syracuse. James mirrors the quarterback's movement and stays in his throwing lanes, giving the pass rush enough time to get home. Coverage sack.
His pressure off the edge here on the Ole Miss quarterback forces a faulty throw that leads to an interception.
He can also run and cover, and make plays on the ball like a cornerback. Here is James defending from the slot against Ole Miss. He has to leave the receiver he was initially shading pre-snap to pick up the outside receiver, who enters his space. He's able to read and react, use his speed to catch up to the receiver and with inside leverage cut off the throw.
This following play is just a cherry on top, and also speaks to James' athleticism and playmaking ability. Usually it's running backs and wide receivers, and even corners returning kicks, but rarely safeties. James takes this one 100+ yards to the house against Wake Forest.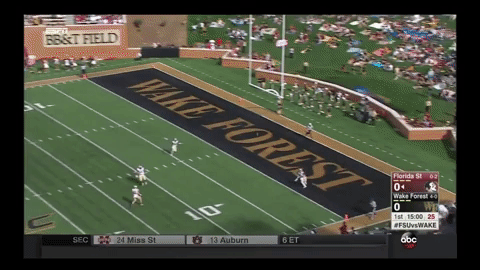 Media courtesy USA Today Sports Images, Pro Football Focus
#derwinjames #filmbreakdown #2018nfldraft #nfldraft #49ers #sanfrancisco49ers #nfl