Year in Review: 49ers' Solomon Thomas (Part II: Outside vs. Pass)
Editor's note: This is Part II of a series examining the 2017 rookie season of 49ers defensive lineman Solomon Thomas. For Parts I, III and IV, visit the home article.
VS. PASS [OUTSIDE]
Solomon Thomas (#94) explodes out of his stance, but regularly lacks a plan after he engages. After that initial burst into the OT, he has no follow-up move. He doesn't counter inside, and doesn't have the flexibility to turn the corner. As the season went on, his hands noticeably developed, but he still hadn't put it all together where he was a consistent presence off the edge.
A Week 16 bout with the Jaguars provided a quintessential example where he won the snap, but didn't have the type of athleticism needed to finish. Thomas by the end of the season was using his hands well, as he shows here, but he loops around and overshoots the QB.
It's plain to see he lacks the natural bend and dexterity seen in a lot of pass-rushing defensive ends. Thomas in fact appears stiff. After swatting Cam Robinson's hands down and getting free, Thomas can't turn acutely into the quarterback to make the sack.
Here is another situation where Thomas is locked up on a speed rush and does not have the agility to counter.
His inability to bend and lack of balance in these situations even led to a couple falls early in the season opener against Carolina.​
In the second clip, Thomas took a chip from the full back, but the shoulder to shoulder contact knocked him off balance. Not too damaging, as that's what chips and double teams are for, but ideally he absorbs the hit a little better.
Good edge rushers, like wrestlers, typically have a solid feel for their center of gravity and can weather disruption.
Oftentimes when the pass-rush situation was neutral, and he got a clean 1-on-1, it seemed his problem was when he stopped his feet. Thomas would execute his first move, stop his feet - stunting any momentum he had, and he was effectively out of the play at that point (the ball either came out shortly after and/or the OL gained leverage on him).
Once he stopped his feet, Thomas got locked up. And if he was going to pause like he did, it would perhaps be to move laterally and counter back inside, which he didn't do.
In Weeks 1 and 3, he understandably struggled with polished tackles Matt Kalil and Andrew Whitworth. But in some of the snaps he lost, it looked more due to Thomas' tentativeness and lack of a pass-rush plan, rather than just Kalil or Whitworth's dominance.
We also saw when Thomas was the aggressor and commits to driving his feet throughout his bull rush, he can be very effective. When he does this, he keeps moving at the QB and forces the throw. These are specific examples in the form of pressures, including one against Whitworth.
Again, that kind of power is why he went top-three overall. But it only comes together when he taps into his lower-body strength, which he has a ton of. He just has to be more consistent with it. And if he is going to continue to rush off the edge, it seems mastering this bull would be smart, as it could be one of his best moves.
The active feet also translate to a speed rush move, which showed up a couple of times.
When Thomas timed the snap well, and dipped his inside shoulder or won with his hands, all whilst moving his feet, his speed rush was effective off the edge, even against five-time Pro Bowl tackle Trent Williams.
Two of Thomas' three sacks in 2017 also came when he was shading the outside shoulder of the tackle.
In this one against Washington, Thomas shows great burst out of his stance, hits Williams with the head bob faking him inside, then engages the tackle as if he's racing the arc before countering inside to finish. Thomas' twitch to get off the block to make the play was also a positive. The only thing diminishing the sack is that Kirk Cousins more or less ran into it.
The second one against Jacksonville was a bit sloppier, as Thomas slipped after attempting to plant his arms in the chest of the tackle. But again, his effort shows up, and he turns a potentially negative play into a positive one. Blake Bortles was about to take off running, but Thomas, on the ground and pinned by the tackle, reaches out and trips him up.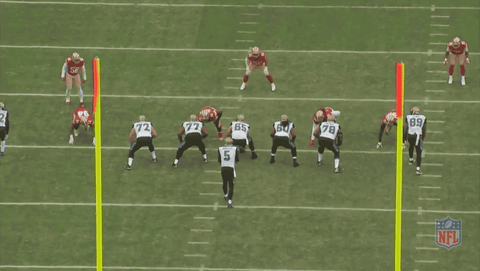 As an outside pass rusher, Thomas could be more consistent driving his feet — it'll keep him in forward motion or at least lead to him getting stonewalled less often. When his feet are active and he's aggressive, his bull rush in particular looks special. Thomas also needs to develop his repertoire of outside pass-rush moves, which should ultimately help him learn to finish.
Over the season, it looked like he was mastering the outside pass rush step by step. His burst, strength and developing hand technique were all helping in the first half of a given pass-rush snap, but he didn't have go-to moves once it was time to counter. His spin was slow and wide, and he couldn't bend or get low enough to beat the tackle.
It's safe to say Thomas is a work-in-progress as an edge rusher. And since he's not natural there, maybe the 49ers limit his outside pass-rush snaps in the future.
Media courtesy AP Images
#nfl #solomonthomas #filmbreakdown #49ers #sanfrancisco49ers #2017nfldraft #nfldraft