Film Room: What lies ahead for 49ers' converting DB Tarvarius Moore
Lesser known defensive back Tarvarius Moore started his collegiate career at Pearl River Community College primarily playing single high safety. His closing speed and hard-hitting highlight tape landed him a scholarship to the University of Southern Mississippi. After splitting playing time with three other safeties, he took over the starting safety role senior year and led the team in tackles and interceptions.
According to Pro Football Focus, Moore was the second-best safety in all of college football with an 88.6 grade. He was also named to their All-American team. Standing at 6-foot-1, 199 pounds, his size and athleticism started drawing attention from NFL teams, including the San Francisco 49ers. The team was represented at Moore's pro day where he tested very well, running a 4.32 40-yard dash, leaping 39.5 inches on the vertical jump with an 11-foot-2 broad jump.
[DESIMONE: 49ers 2018 Draft Guide: Impressions, questions, superlatives and grade] Posting crazy athletic testing numbers like that, the 49ers knew if they wanted Moore, they would have to be aggressive drafting him. In the third round with the 95th overall pick in the 2018 NFL Draft, the 49ers selected Moore. But not at the position most thought. They intend for him to play cornerback.
Moore had no college tape playing cornerback that I could find, going all the way back to his Pearl River highlight film – he had primarily been a safety. Granted, my access to college film is limited to YouTube cut ups, but typically you can find four to five full games of prospects.
Moore had cut ups from the Tennessee and Florida State games, both showing him play safety in what looked like a Cover 4 defense, far different than what he'd be asked to do playing with the 49ers. The 49ers' cornerback situation
The 49ers in 2017 began a total overhaul at the cornerback position.
They started by drafting 6-foot-3, 198-pound cornerback Ahkello Witherspoon out of Colorado. Heading into the season, second-year pro Rashard Robinson was crowned the No. 1 cornerback. But after a penalty-happy first half of the season, he was traded at the deadline to the Jets for a fifth-round draft pick.
Previous draft picks such as Will Redmond and Keith Reaser were released. The starter opposite Robinson heading into the season was Dontae Johnson. Most players have their best season in a contract year, but according to Pro Football Focus, Johnson finished the year with a 36.9 overall grade, which was ranked 118th out of qualified cornerbacks. He was not retained, and signed a free-agent deal with the Seahawks. After gutting out the position, the 49ers made it a priority to invest back into cornerback this offseason.
They took action by adding All-Pro Richard Sherman, who will help bring all these young defensive backs together to form their version of the Legion Of Boom. While Sherman was never the fastest cornerback—never had the best feet, never had the best technique—he was always able to win with his mind.
The 49ers went the athletic route with the rest of the group, hoping Sherman can help them get the mental part of the game down to go with their great athleticism. There are many teams around the league that have gone to the single high safety scheme made popular by current Chargers defensive coordinator Gus Bradley. The ideal fit is pretty simple: a tall long-armed cornerback who can run. Sounds like Tarvarius Moore to me.
But what will he be asked to do? Let's take a look at cornerbacks around the league in the same scheme and see what they are asked to do.
What's on deck for Moore
The general consensus is the 49ers run a traditional Cover 3 scheme.
That thought is not wrong but the scheme asks for good man-to-man corners on the outside who can play at the line of scrimmage. I won't pretend to know exactly what coordinator Robert Saleh asks his defensive backs to do but when you watch the film, it's pretty clear and simple for the cornerbacks. Be able to cover an entire third of the field from the line of scrimmage to the end zone. Ideally you would like cornerbacks who can run... fast.
Moore posted a 4.32 40-time, so we know he has plenty speed. Now, people will remind you of Sherman's 4.60 40 at the combine and say he's slow. But his game speed is faster than his 40 time would tell. Cornerbacks in this scheme live on an island. They show a single high safety look with cornerbacks in press coverage at the line of scrimmage. The cornerbacks typically have the option to play press man or press bail depending on the coverage.
The main thing you want to do is stay on top of the receiver in your third.
The deep speed comes into play often. Teams know the cornerbacks are on an island. Week 1 of preseason last year, the Chiefs beat Rashard Robinson on back-to-back drives deep down the sideline.
Witherspoon shows what it looks like when you win in that situation.
Moore is new to corner. Will he be able to play press at the line of scrimmage as well as stay in phase with speedy receivers down the field?
Part of playing cornerback is having a feel for when to get your head around on passes down the sideline. When you get in phase with a receiver and are able to get into the receiver's hip pocket before getting your head around without panicking. Dontae Johnson and Rashard Robinson struggled with this at times last season.
Johnson just flat out got burnt. Robinson drew flags on the regular.
As the season went on, rookie cornerback Ahkello Witherspoon showed the awareness to play the ball in the air without drawing flags as well as break up passes. You could see him get more comfortable playing the hands if he wasn't able to get in phase and control the receiver, as well as flip his head around when he was able to get into position.
Reading receivers down is a "feel" thing. The longer you play the position, the more you have a feel for when the receiver will break down. When you get too far upfield shoulder, you are vulnerable to comebacks.
When you play low hip and trust your deep speed, you put yourself in a much better position to play the comebacks. This is something that Moore will have to get used to and get a feel for how he will play the comebacks. Sometimes it doesn't result in pass breakups, but you want to see your cornerbacks challenge the receiver.
The cornerbacks in this scheme are more vulnerable down the sideline. They mix up their single high coverage between true man and a form of Cover 3. When they run their true man, you can see everyone get attached to a receiver. The cornerbacks have very little help in this instance.
Oftentimes the scheme calls for more of a man look by the cornerbacks on the outside, but the linebackers drop into a zone and give the corners help inside. On both of these examples you can see the cornerback in press coverage and the linebacker flash underneath to help.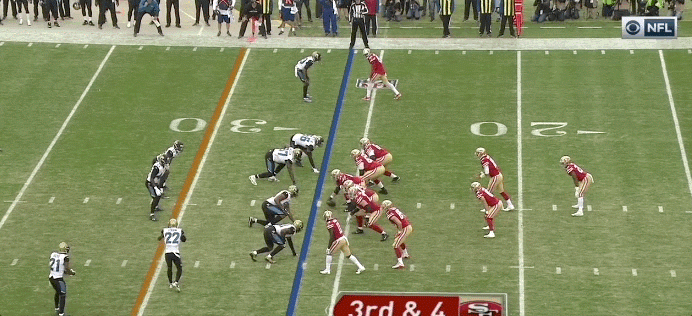 Sherman will be a big help teaching the young guys, including Moore, when and how to use their help. At times the 49ers run a true Cover 3 Sky defense. The cornerbacks read 2 to 1. One is the furthest outside receiver. Two is the second furthest receiver outside. If 1 does a five-yard stop, the cornerback will look to see if 2 goes vertical. If he does, the cornerback has to be able to carry that to make a play on the ball. Oftentimes he can help himself with alignment.
In the AFC Championship game you can see Jalen Ramsey react too slow to the No. 2 receiver (Brandin Cooks) going vertical.
The 49ers lost a game on this exact thing. One ran a stop route and 2 (Larry Fitzgerald) ran vertical that Rashard Robinson was supposed to carry. Outside alignment made Robinson a step too slow resulting in a Fitzgerald walk-off touchdown catch.
Washington ran the same true Cover 3 Sky and Brashaud Breeland played this perfectly. From the All-22 view you can see how it all played out.
Converting from safety to cornerback is no easy task, but with Tarvarius Moore's length, speed, athleticism and great ball skills, he's a great project for defensive coach Jeff Hafley.
Much like Witherspoon last year, there may be a learning curve, but if it works out, the 49ers have their cornerbacks in place for years to come. Not to mention, with Richard Sherman, Ahkello Witherspoon and Jimmie Ward, the 49ers should be able to take their time with getting Moore on the field.
Media courtesy Jonathan Bachman/Getty Images, Logan Bowles/Getty Images
#tarvariusmoore #ericcrocker #filmbreakdown #nfl #49ers #sanfrancisco49ers #2018nfldraft #nfldraft