Film Room: Richie James a threat to be featured in 49ers' WR corps
Richie James should not have been available for the taking at the 240th overall slot in the 2018 NFL Draft. When that pick happened, I had no problem calling it a steal for the 49ers. James can do it all: he can separate, he's dynamic after the catch, he can win in contested situations, and he can line up all over, handling both rushing and receiving duties. He was also MTSU's all-time leader in all major receiving categories.
The draft itself is a crapshoot – by the seventh round, teams aren't counting on getting anywhere near that much talent and college production. And more often than not, a seventh-rounder can be safely stashed on the practice squad. James can't be considered one of those players.
The pick received rave reviews from NFL personnel execs, per ESPN columnist and former 49ers beat writer Mike Sando, and James has even been an early standout in minicamp.
[DESIMONE: 49ers 2018 Draft Guide: Impressions, questions, superlatives and grade]
Why'd he fall then?
To start, James is 5-foot-9, 176 pounds. That's a small running back for most teams. And with defenses loading up on taller, longer corners, teams with less creativity and knowhow on offense might assume James would be less valuable in today's NFL.
Also contributing to his draft fall may be his politics. While college football players are not in a position to take a stance during the national anthem, since they're still in the locker room, James in September 2017 made it clear he would kneel in the NFL.
"Oh yeah, I definitely would," he said, via the Daily News Journal.
"So much history is repeating itself," James added. "So that's the most positive way we can do anything about it, taking a knee during the national anthem. Just being active on the stage and that platform, I think they're doing the right thing… we have to make a change, as a culture, as people… we've got to do better."
It'd be speculative to say this is 100 percent why James fell, but teams that did homework on him likely came across this pretty early on. And not being deaf to what's going on in the league, it may have contributed to a few teams' decision to pass, especially in a deep and diverse receiver class.
A third bullet point contributing to his fall is that James had a high ankle sprain and broke his collarbone in 2017, and only appeared in five games, preventing him from putting up his third consecutive 1,000-yard season. Being off the radar entirely did not help his hype heading into the draft.
But the fact remains, James is very talented and a former college centerpiece, and in this situation with Kyle Shanahan, Jimmy Garoppolo and the 49ers, he can be similarly great.
Here is why I have such a high opinion of James.
Blocking
Much like with rookie running backs, blocking will help get James on the field. He's willing to throw his body around, and it's not reckless or inaccurate where he misses his target. James is very deliberate and coordinated, both timing his blocks and making sure he gets a piece of the defender.
Watch him be the last receiver to get off the line and engage the slot defender, as to optimize the run after catch by his teammate.
Here James is again, this time getting a piece of the linebacker, and driving him away from the play.
This block by James pays dividends. Within five yards of the goal, James again waits to engage until the perfect time, making sure the ball carrier has a lane once the reception is made.
He has the awareness to block downfield, and can also lay defenders out.
Hands
Receivers that fall this far usually have inconsistent hands. James is quite the opposite. He is a very confident and acrobatic hands catcher.
James plays a lot bigger than 5-foot-9, too. He's aggressive going up for the ball and can time his leap to win at the catch point.
Tracking
James has 4.4 40 speed, but the best thing is that if he beats his man, he can track the ball from multiple angles and make sure he capitalizes on winning his route. James showed he has the discipline to look the ball in, as well as the soft hands to make the catch.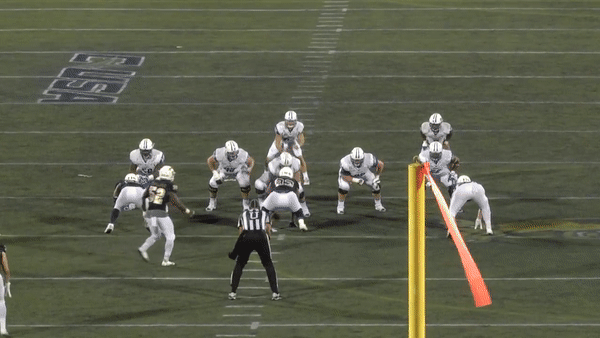 Big Plays/YAC
James is a player Shanahan will want to scheme touches for because he's a big play waiting to happen. The more touches, the more likely he is to break one. He is that kind of player – not just a 'chip away at the defense' kind of player. This was seen in deep shots to James (even as the primary on a flea flicker), broken plays, and with his ability to run after the catch.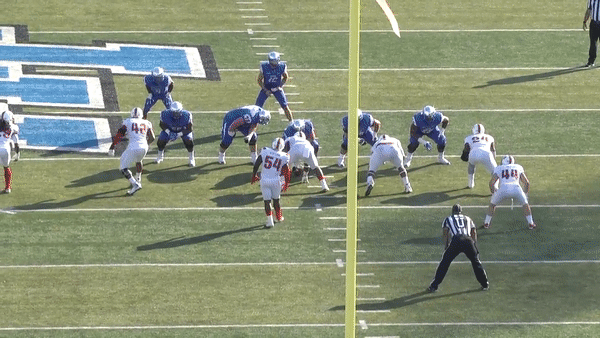 He is a legit game-breaker.
Backfield
Like Marquise Goodwin and Kyle Juszczyk, James is a true offensive weapon that Shanahan can line up anywhere, and ask to do multiple things.
He can catch out of the backfield.
He can play running back.
He also has experience running Wildcat (though it's unlikely the 49ers ask him to do this much, as they have a QB they want to keep under center).
Red Zone
James is going to be a player defenses have to keep an eye on in the red zone. This is because he can line up anywhere, and he has a combination of speed and explosiveness that will make him dangerous on quick-hitting plays designed by Shanahan.
The 49ers can also get creative scheming carries for him, as we see MTSU do in this QB option pitch and end around.
This also includes Wildcat.
James in 2016 had two red-zone touchdowns in the same game against Florida Atlantic executing from this package.
And like we saw before, despite his size, James can also time his leap and beat defenders to the ball. So, he could be a featured piece for the 49ers in the red zone, as early as 2018.
Media courtesy Getty Images, AP Images
#filmbreakdown #nfl #49ers #sanfrancisco49ers #49erstrainingcamp #2018nfldraft #richiejames