Interpreting Kiffin's pass-rush plan to build a trap around 49ers' Buckner
The source of pass rush will remain in question until the 49ers have a big name player on the outside. That's the way a lot of fans and analysts look at it. But this team is likely going to be better at generating interior pressure like Los Angeles (N) and Jacksonville; and they're going to attack with scheme and an all-hands-on-deck approach because they don't have a Von Miller or Chandler Jones on the roster.
One of the engineers behind this will be coach Chris Kiffin, last year's defensive coordinator for Florida Atlantic University.
He's in town as San Francisco's newly-appointed pass-rush specialist, a position that didn't exist before and an area that greatly needed attention. The team tied for 26th in the NFL in sacks last year (30.0); there were only five teams that had less. On top of that, their sack leader from 2017, Elvis Dumervil, is 34 years old and no longer with the organization.
It's important they become better schemers when it comes to pressuring the quarterback.
That starts with Kiffin, whose primary focus will be with the defensive line and strong side linebackers. Perhaps most interesting is that the coach told Matt Barrows of the Sacramento Bee that he already has a pass-rush philosophy for this unit in particular.
His grand plan? To "build a trap" where the quarterback is funneled to DeForest Buckner, the 2016 top-10 pick who is on the cusp of All-Pro honors, and has the length and ability to finish.
"I think we have to build everything around Buck. And that's your starting point. You watch the NBA playoffs right now and you see [teams] build around their best guys."
Kiffin said this, but didn't really elaborate on what it meant from an X's and O's standpoint. But it seemed as if he was speaking from a place of experience, so his method is likely already rooted in his scheme. Taking a look at one game, Florida Atlantic vs. North Texas in the 2017 C-USA Championship, it became clearer how Kiffin schemed to force the quarterback to go where they wanted.
Here are some elements I pooled after a look at Kiffin's latest defense, discussed in conjunction with how they may apply to the 49ers given their current system and his recent comments. You can read more about Kiffin from Barrows at the Bee or in this series from Niners Nation, which details the coach's previous work at Ole Miss, Arkansas State and USC.
Buckner and Building a Trap
What I gathered from watching FAU rush the quarterback—and in instances where the defensive line appeared to bottle up or influence the direction of the quarterback—was that defensive ends ran contain. More often than not, they attacked wide and bracketed the quarterback, so he had no lateral exits out of the pocket.
Normally the ends come straight in or around, but Kiffin wants to have a contain where they take an initial step out off the snap and shoot upfield. Their goal is to get the outside edge, and have the quarterback come inside where the defensive tackle is.
As you can see, the pass-rush plan by the ends isn't to counter back inside. They consistently rushed wide, coming downhill working the outside shoulders of the tackles.
This was a theme. And when he was feeling fancy, Kiffin would even mix in a DT stunt with it to try even more to win that interior matchup.
Philosophically, it seems as if his defensive ends are instructed to go downhill without fear of consequence of losing integrity on their inside gap. The motto may be to over-rush, if anything, as to trap the quarterback. By closing off the left and right side, the QB can only step up, which is presumably where Buckner will be most of the time.
The 49ers' star player on Day 1 of training camp hinted at this approach when discussing what Kiffin plans to add:
And it's effective, as you saw above. Not without its flaws, but it works, and could be perfect given the 49ers' personnel.
There's an aggressiveness getting downhill and great feel for space, which does seem to be a product of Kiffin's coaching. Edge players like Cassius Marsh and Dekoda Watson, and even Eli Harold can handle this. If Kiffin can drill home the space the ends need to be in order to create the trap, the 49ers pass rush might get better just from that.
It can even work with a three-man rush on long down-and-distances.
It's also worth noting the bracket method also doesn't necessitate a ton of skill or talent on the end's part either, it's more assignment discipline. That's a plus for the 49ers, who are unestablished at that position – meanwhile they have a lot invested in the middle.
Kiffin also insisted to Barrows that a successful pass rush isn't 100% reliant on the edge talent, which is another hint that he plans to run contain and force the QB to Buckner. So he's at least aware of the 49ers' strengths and weaknesses, and is working with it.
The downside of the contain is that you take away opportunities from defensive ends to generate pressure themselves. And if the pocket doesn't collapse from the interior, the quarterback has all day to throw. Thus in these situations, the pressure is on Buckner and in some cases Solomon Thomas to make the play.
This approach also may be most effective on teams that have quarterbacks that want to leave the pocket. Situations where the defensive ends take that outside step and get north up the field will work best against inexperienced tackles, too. For example, against Russell Wilson and Seattle's poor line, contain might be a nice strategy.
As you can see from this game against the Seahawks from 2017, Buckner (#99) flips the switch and gets instant penetration as Kiffin would need him to do, but the 49ers are not running contain, and Wilson is able to exit the pocket and make the completion. If Arik Armstead (#91) won his snap and the D-line committed to bracketing the quarterback there, Wilson would've been annihilated by Buckner.
This is one example of how Kiffin can take missed opportunities from last year and convert them into wins in 2018. But the onus will still be on Buckner to win from the interior in order for this to be successful.
So while this scheme may potentially aid Buckner from a stats perspective, the 49ers will be more dependent on the bouts of God Mode he puts on film – the snaps where it doesn't even matter what the play call is. In case you don't know what I'm talking about:
One of the most nimble 6-foot-7, 300-pound super freak athletes you'll ever see, Buckner towers over most O-linemen, and attacks with a high-level combination of power and quickness. With his trademark club-swim move, resembling that of Calais Campbell's, he'll toss his tree trunk of an arm over a lineman's shoulder, swipe him clean out of the way and propel toward the quarterback all within a few swift movements.
It's just too much size, power and twitch to handle.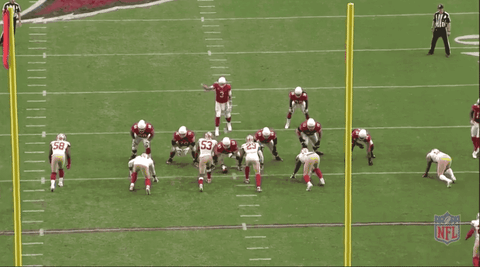 Generating pressure from an inside tech, he can also mow through players, even when facing the better offensive lines in the league.
Buckner has consistently shown an ability to collapse the pocket and penetrate from the interior, which is exactly why Kiffin will want to go this direction. He has the centerpiece that would bring about the best results using this philosophy. He just needs to get the defensive ends up to speed.
Even without the new pass-rush specialist, the 2018 season was setting up to be Buckner's breakout year, too. If Kiffin's strategy to over-pursue and contain with the defensive ends works, and Buckner himself becomes a better finisher, converting a higher rate of his pressures into sacks, then questions about the 49ers' pass rush will dissipate.
Media courtesy SI/MMQB, Sun Sentinel, NFL
#deforestbuckner #filmbreakdown #49ers #sanfrancisco49ers #49erstrainingcamp #chriskiffin #nfl