Film Room: 49ers in Week 10 must swarm, finish in hopes of containing rookie Barkley
The 49ers on Monday night at Levi's Stadium face off against Eli Manning and the Giants before heading into their bye week. This marks San Francisco's third-straight game against a one-win squad, and the team hopes to come out from the soft spot in its schedule with a 2-1 record. However, of the teams they played the last two weeks, it's clear the Giants have the most talent on both sides of the ball.
Their defense is anchored by Olivier Vernon, Janoris Jenkins, Landon Collins, and a familiar foe in ex-Ram Alec Ogletree. The offense has some bright spots too in tight end Evan Engram and wide receiver Sterling Shepard.
Of course, we can't forget about All-Pro wide receiver Odell Beckham Jr. and rookie sensation Saquon Barkley. With all the weapons on the Giants' offense, the 49ers will need a repeat of last week's defensive performance to come out with a win.
Prior to this season, Beckham was the catalyst for the Giants' offense. The team's offensive coordinator was finding ways to get him the ball at different spots on the field in hopes of Beckham making a play. Unfortunately for the Giants last season, they lost OBJ for the year due to a fractured ankle, which exposed how fragile their system was, and eventually led to the firing of head coach Ben McAdoo. This offseason, the Giants drafted Barkley to complement Beckham on offense and it looks as if they have found their first workhorse running back since Ahmad Bradshaw.
The running back has been very exciting to watch this season and will no doubt be a contender for the NFL's Rookie of the Year award. He has the rare blend of power, elusiveness, and vision that can single-handedly destroy defenses, which he showcases on a weekly basis.
This next play is just one example of the immense talent that Barkley possesses.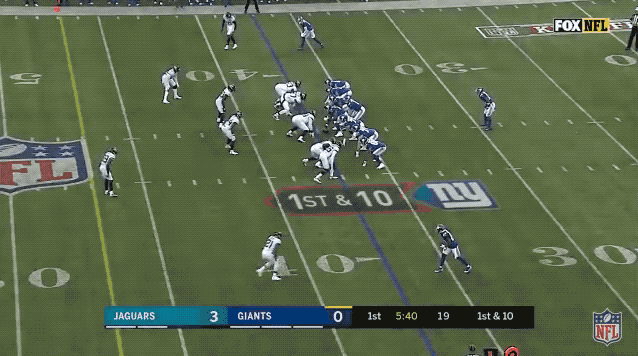 Immediately after he took the handoff from Manning (#10), Barkley was met by the Jaguars' defensive line, which did a great job of plugging most of the gaps along the line of scrimmage. Barkley took a split second to evaluate his options, and made the best read possible. Pay attention to Tayshaun Gipson (#39) on the play; he came up to help against the run, so Barkley cut away from that half of the field and ran into open space. Now, this is where Barkley's power came into play. Telvin Smith (#50) is one of the NFL's best linebackers and the leading tackler for Jacksonville, but the young running back was able to shake him off and finished the run by lowering his shoulder against All-Pro cornerback Jalen Ramsey (#20).
People enjoy watching Barkley and appreciate his style of play because he is always fighting for yardage, and it doesn't matter who's in his way.
In the clip above from the same game, Barkley works hard to find open space and broke a 68-yard touchdown. Plays like this are what should concern the 49ers this week. Despite the recent improvement, they aren't great at tackling opponents, and as evident in the run above, Barkley will make them pay for that. At the beginning of the play, Barkley looked like he was going to be brought down for a small gain, but completely embarrassed the Jaguars' defense. The 49ers will have to bring their "A game" in order to prevent runs like this from happening in front of a national audience.
Barkley has been a human highlight reel this season. He has made plays that blow fans away in almost every game. In the Giants' Week 6 matchup against the Eagles, the rookie had the most impressive 9-yard run that I've seen.
Just look at how hard Barkley runs. It's even tough to keep count of how many defenders he came in contact with on that run. It's also tough to make defenders miss when surrounded by other players, but he still found a way to fight for that yardage.
Although this team has only won one game so far, Barkley isn't the reason why. The offensive line has struggled greatly in pass protection, which has negatively affected Eli Manning's performance. The 49ers need to get in the quarterback's face early in hopes of creating turnovers and limiting Barkley's opportunities. And when they square up with Barkley, they have to make sure they bring him to the turf.
Media courtesy NFL, USA Today Sports Images
#erickgarcia #nfl #sanfrancisco49ers #49ers #filmbreakdown #gamer #saquonbarkley