DeSimone: Why Henry Ruggs may be the WR the 49ers are after
It's official: the San Francisco 49ers need a No. 1 WR … again? Still? Either way, in the latest, Emmanuel Sanders has left for New Orleans after an admirable push to the Super Bowl last season. But, it sounded at the NFL Combine as if head coach Kyle Shanahan had accepted that Sanders was no longer going to be a 49er.
Prior to signing with the Saints, even, Sanders shared on Twitter that the 49ers had not offered him a contract (and he only signed for $8M per year with the Saints). While he was an excellent late-season addition and a valued member of the 2019 team, it makes sense for San Francisco to go younger and invest in a WR1 opposite Deebo Samuel at this time – especially with other upcoming contract extensions due.
[CROCKER: Ranking potential WR targets for the 49ers at No. 13 overall]
There's reason to believe they've been prepared for it for some time – perhaps since January or February – and are getting closer to zeroing in on their guy. To me, Alabama WR Henry Ruggs III may be the reason the team is doing everything they're doing.
On February 27, 2020, it was confirmed the 49ers met with Ruggs at the combine – at the time the most out-of-reach prospect they'd spoken to. But only a couple weeks later, they pushed the trade through that sent Pro Bowl DL DeForest Buckner to the Colts for the No. 13 overall pick, right in Ruggs' range. And then, they let Sanders walk without breaking a sweat, opening up a starting job.
After this unfolded, and the reality of this pairing became more real, I've been watching more of Ruggs, and I decided I wanted to share what I've been seeing. I bucketed this uniquely from the standpoint of the 49ers:
• Contact
• Shanahan
• Speed
• Polish
• Red zone
—Contact—
Ruggs has good contact balance, especially for a slender receiver, and is wired to play through the hits. He got crushed and spun around here, and could've easily gone down, but he endured simultaneous blows and was looking for extra yards. He's dense and harder than he looks to bring down.
Ruggs takes a lot of crossers putting him right in the teeth of the defense. He's used to this, and is pretty fearless though. Here he uses his momentum off the wide-open catch to play hard into a group of three Arkansas defenders.
Ruggs puts his shoulder down and plays through it. The way he invites contact is in the stylings of Deebo Samuel or George Kittle. He'd fit right in.
Another example of Ruggs' excellent contact balance and willingness to take the hits.
—Shanahan—
Deep ins and crossers are Ruggs' bread and butter, also a fixture in Shanahan's offense, and something Emmanuel Sanders did a lot of. This is textbook by Ruggs, as he pushes the corner downfield, breaks off his route at the sticks and hauls upfield after the catch.
Shanahan has so much designed behind the LOS, a player like Ruggs could do some damage with blockers like Kyle Juszczyk, George Kittle and Mike McGlinchey.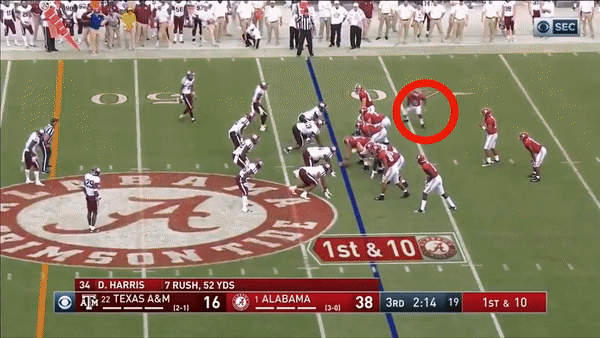 Ruggs goes the distance on a jet sweep, another Shanahan staple.
—Speed—
What's outstanding about Ruggs is routes like comebacks, curls and crossers, that are meant to be moderate gainers, can turn into points on the board, simply because of his ability to outrun defenders.
Ruggs, again, on the crosser, hits the home run play. These patterns are woven into Shanahan's playbook, and because of that, he and his 4.27 presence would be welcome, cranking the TD probability way up.
Ruggs' renowned straight-line speed is on display here. He beats the defender down the field so bad, he can slow down, fit a 360 in, catch the ball, and accelerate back up, pulling away for the six.
Ruggs' speed measured differently here (not on the stat sheet). He's got the corner beat in man coverage and draws a blatant DPI penalty, setting Alabama up at the 1-yard line. This is an invisible touchdown for him. And it goes to show the kind of defensive stressor Shanahan could use, and illustrates how they're trying to upgrade from Sanders.
Ruggs catches the ball six yards behind the LOS, and takes it 88 yards to the house, outrunning defensive backs with 20-yard head starts, and destroying pursuit angles in the process. This is world-class speed that doesn't come around all that often in a receiver as nuanced as Ruggs is.
—Polish—
Ruggs gets behind the DB on the sluggo route. He sells the in-breaking route with the hard plant, and with his speed, the cornerback can't afford not to take him inside. Once that happens, Ruggs quickly gets vertical, gets his eyes up and corrals the catch.
Ruggs fights off contact and works back to the ball, makes the hands catch, then proceeds with some nifty footwork on the sideline to stay inbounds and threaten for more yards. This is a great play by Ruggs because he's pressed against the sideline, covered by the Auburn CB, and still wins in tight space.
Ruggs again shows off the twitch he'll need in order to shake loose in the NFL. While he rounds off his routes a bit more than Jerry Jeudy, he has the suddenness to separate from the defender – even if only for a moment to make the catch.
Running out of room on the crosser, Ruggs extends for a high-thrown ball, reeling it in with his hands before absorbing a hit from LSU safety Grant Delpit. NFL play.
Ruggs shows out to be a complete receiver on this play. Route running, positioning, body control and adjusting to the throw, and making the hands catch. It's an impressive touchdown by Ruggs with the cornerback in his waist and the safety coming over the top.
Ruggs makes a spectacular leaping, one-handed snatch on a ball thrown high and behind him against LSU cornerback Greedy Williams. On top of his concentration, his 10 1/8 inch hands have never been more apparent than on this play. Ruggs some of the largest mitts in the draft despite not being near the tallest prospect. Very few have 10+ inch hands.
Again, with his patented double move, he crosses the corner up like a point guard and gains a ton of outside leverage creating a safe throw for the quarterback. I don't love that he lets the ball into his chest too much on this one but he secures the catch and it's an easy touchdown.
—Red Zone—
Speeding across the back of the end zone is kind of his sweet spot.
Ruggs scores out of a bunch set in the red zone. This also ties into our Shanahan and speed section – the 49ers come out with those looks and that skill is what makes Ruggs dangerous here.
These are the contested catches proverbial WR1s make in red-zone situations. Ruggs has made a number of these. He's lean and sub-6-foot, but plays strong on the ball, knows how to box out defenders, and again, has big hands to use to his advantage.
What would a red-zone preview of Ruggs be for Shanahan without a slant? Look how fast this happens. Talk about a bang-bang play.
Conclusion:
Ruggs is explosive. Which is understatement. He has the best acceleration of anyone I've seen in college football the last half decade. He hits his top speed almost instantly and sustains it. That's how you see him pull away from defenders with a 10-yard head start on him.
Why has Shanahan coveted Odell Beckham Jr.? Incinerating speed. The ability to turn a slant into a 70-yard score in his offense (and somebody to run the nine). Ruggs can do that. We also talked about Ruggs' hand size – OBJ is one of the few with 10-inch hands. In essence, Ruggs is a faster replica -- not exact -- but a replica of OBJ, if there ever was one. Shanahan can finally have his own homegrown version of the receiver he's always wanted since he came up empty-handed in his attempt to acquire Beckham Jr. from the Giants.
Add it all up, from Sanders to Buckner to Beckham Jr. … it all points to Ruggs.
Follow @DylanADeSimone on Twitter
Media courtesy Joe Robbins/Getty Images